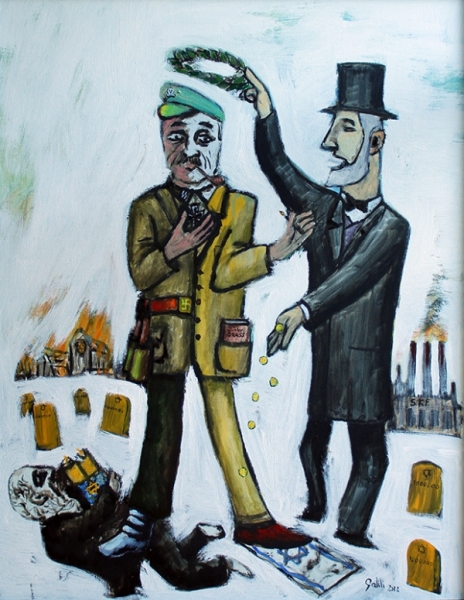 Gunter Grass
On 12th August 2006 the unsuspecting world was shocked by the Nobel prize for literature being presented to Gunter Grass; the innocent, gifted artist, the clear conscience of the post Nazi German Youth who confessed that he is not actually as innocent as he has been pretending to be for the last 67 years. He confessed, that he had been through the usual Hitler Jugend brain washing and as soon as possible he had volunteered to join the dreaded U-boat predatory service but had been rejected. The young Gunter Grass then enlisted in the equally feared Waffen SS; the elite militant wing of the Nazi Party, known as the 'Panzer Division'. He was wounded in battle and became a prisoner of war.
In 2012 Heir Grass again surprised his devotees by publishing a stinging and rather long anti-Israel poem in which he accused Israel of an intention to wipe out the Iranian people and to start a third World War. This outburst showed that the underlying Anti-Semitic Nazi education had in reality been absorbed and could not be suppressed any more.
Israel has declared many times that they have no quarrel with the Iranian people and in Israel there exists a 'WE LOVE IRAN' movement.
While on the other hand it is well known that the Iranian leadership are supporters of worldwide terror, and have again and again promised, in the media, in their parliament and in the UN, to wipe Israel off the map.
This Gunter Grass poem is a gift to the new European fascism that is threatening our hard earned democracy.
2013
Oil on Canvas